Sheraton Palo Alto Hotel
37.44076

,

-122.1635
Palo Alto

,

United States

|
153US$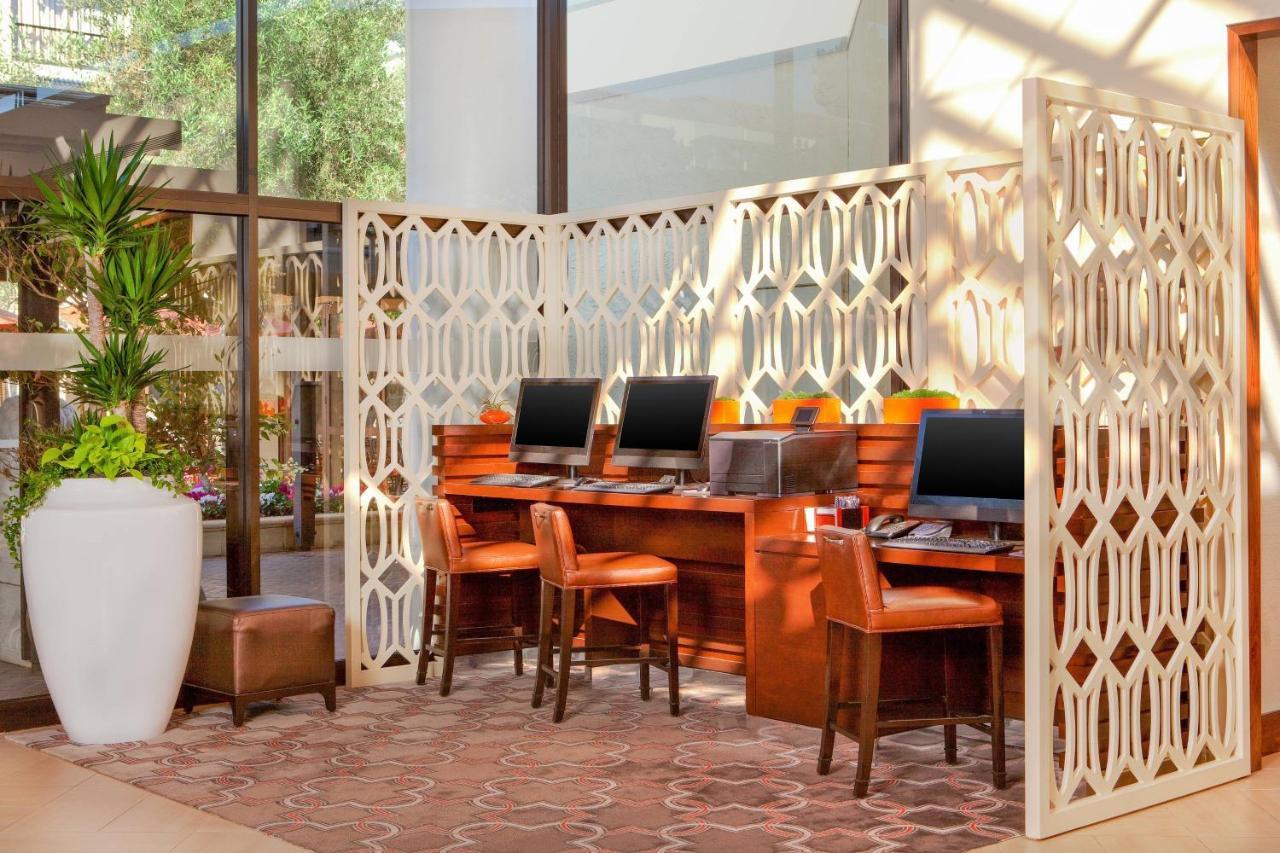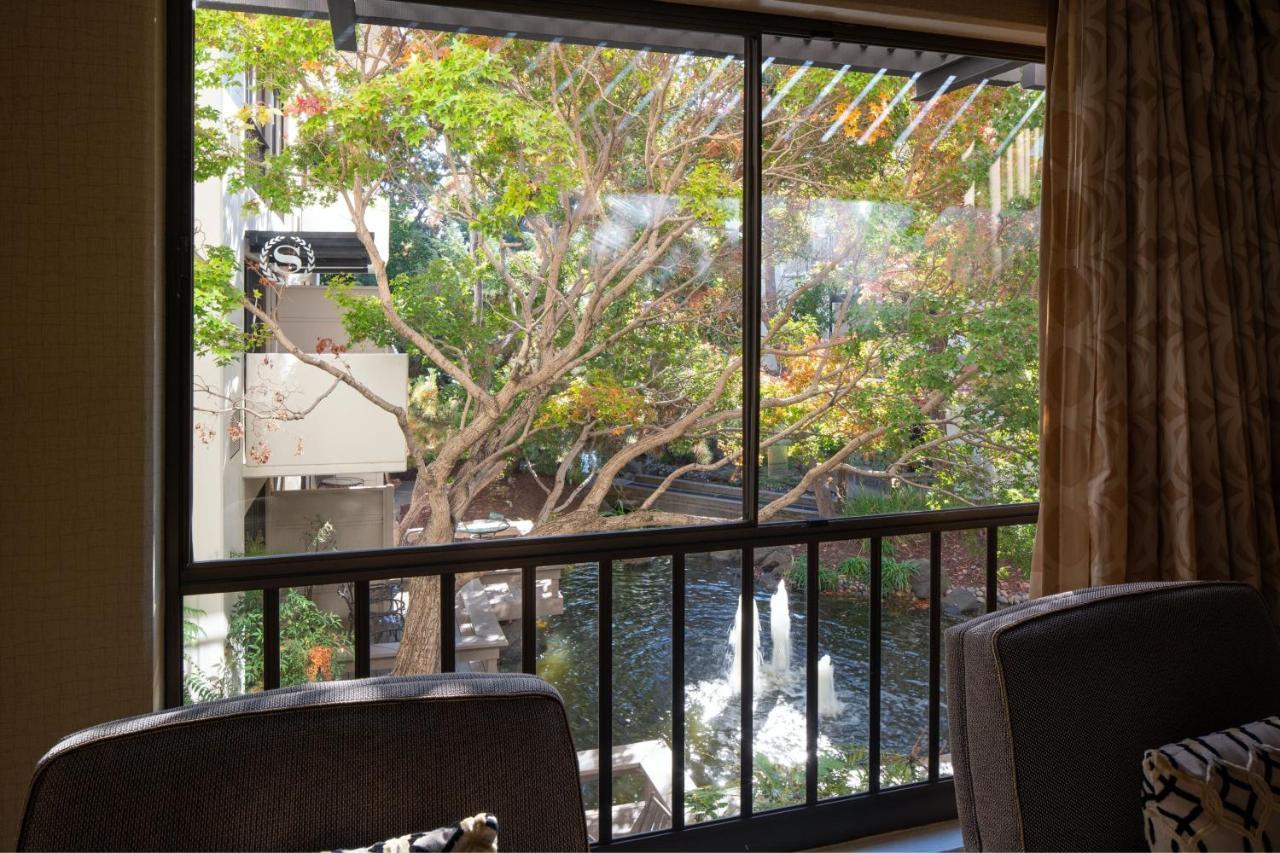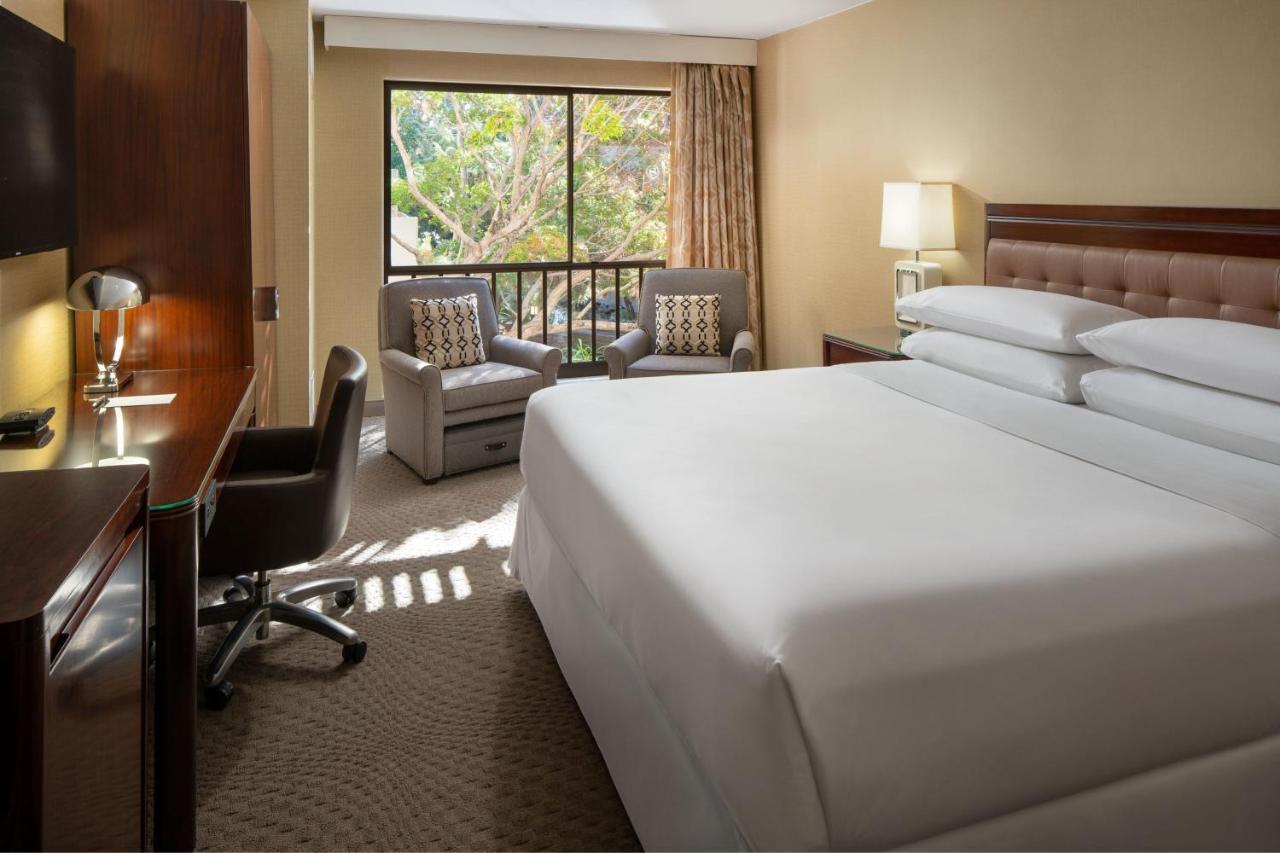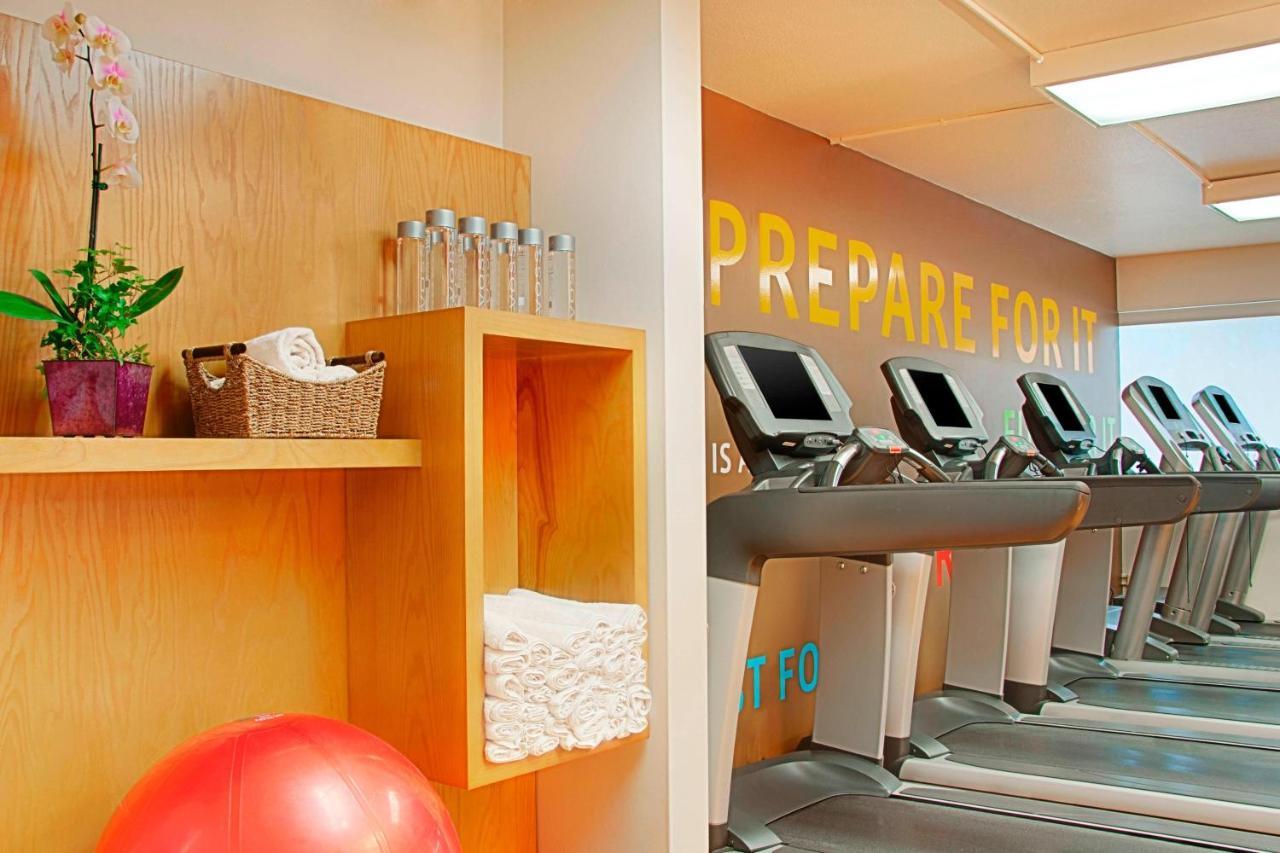 Address
625 El Camino Real
,
Palo Alto
,
California
,
United States
,
94301
, California
Overview
Located about 1.2 miles from Memorial Ornate Church, which is considered to be a sacred place of worship, Sheraton Palo Alto Hotel offers baggage storage and a restaurant for guests' convenience. Set within walking distance of Whole Foods Market, the 3-star hotel features an à la carte restaurant serving local cuisine.
Location
Approximately a 5-minute walk from Museum of American Heritage in Palo Alto, the hotel is approximately a 25-minute walk from Palo Alto Junior Museum and Zoo. El Palo Alto Park is extremely close to The Sheraton, while Palo Alto Medical Foundation bus station is within 400 feet away. Anderson Collection at Stanford University Modern Art Museum is approximately a 20-minute walk from the Palo Alto property, while California Ave Caltrain is situated approximately 1.6 miles away.
Rooms
There are 346 rooms with central heating and ironing facilities. Some of them offer cable channels and radio as well as coffee/tea making facilities. Some units include a private bathroom with a bathtub and showers.
Eat & Drink
Guests are invited to the on-site Poolside Grill restaurant to indulge in culinary delights.
You can start your day with a full breakfast, which costs US$21 per person per day. 
Leisure & Business
The Palo Alto hotel offers a summer terrace and an outdoor pool area for an additional fee so you could have extra comfort during your stay. Beach facilities at Sheraton Palo Alto include sun loungers and towels.
Internet
Wireless internet is available in the hotel rooms for free.
Guest Parking
Private parking is possible on site at USD 25 per day.
Year renovated:   2012.  Number of floors:   4.  Number of rooms:   346.
Best-Rated Sheraton Hotels around Palo Alto
Sheraton is a hotel brand that values luxurious experiences for their guests. With modern and spacious rooms, travelers can find comfort and convenience during their stay. Sheraton offers amenities such as swimming pools, fitness centers, and top-rated restaurants providing an unforgettable experience. Whether traveling for business or leisure, Sheraton hotels provide a memorable and delightful environment for their visitors.
570 reviews

169$ / night

167 reviews

157$ / night

1127 reviews

129$ / night

41 reviews

118$ / night

28 reviews

202$ / night

48 reviews

138$ / night

67 reviews

209$ / night

141 reviews

156$ / night
Most Booked Hotels for Your Next Trip
Facilities
Most popular facilities
24-hour services
24-hour reception
24-hour security
Food/ Drinks
Poolside snack bar
Restaurant
Coffee shop
Swimming pool
Outdoor swimming pool
Heated swimming pool
General
Free Wi-Fi
Parking
Baggage storage
24-hour services
Food/ Drinks
Fitness/ Gym
Swimming pool
Laundry
Services
Room service
Laundry
Dry cleaning
Wedding services
Limousine service
Wake up service
Stores/Commercial services
Dining
Restaurant
Poolside snack bar
Business
Business center
Meeting/ Banquet facilities
Printers
Fax/Photocopying
Facilities for people with disabilities
Toilet for disabled
Bathroom for disabled
Spa & Leisure
Heated swimming pool
Outdoor swimming pool
Sun loungers
Sun terrace
Garden area
Room features
Free Wi-Fi in rooms
Air conditioning
Heating
Terrace
Garden furniture
Tea and coffee facilities
Ironing facilities
Bathroom
Hair dryer
Free toiletries
Media
Flat-screen TV
Direct dial telephone
AM/FM alarm clock
Good to know
Check-in
from 15:00-23:59
FREE
Check-out
until 12 pm
FREE
Children & extra beds
There are no cribs provided in a room. 
Pets
Pets are allowed on request.
Rooms and availability

Bed options:

Max:

2 persons

Bed options:

Max:

2 persons

Bed options:

Max:

3 persons
Location
625 El Camino Real
,
Palo Alto
,
California
,
United States
,
94301
, California
City landmarks
Nearby
Restaurants
Hotels nearby
University
Stanford University
1.2 mi
Museum
Cantor Arts Center
5200 ft
Shopping Area
Stanford Shopping Center
3700 ft
Museum
Hewlett Packard Garage
3700 ft
Museum Way
Rodin Sculpture Garden
1.0 mi
351 Homer Ave
Museum of American Heritage
2200 ft
80 Willow Rd
Sunset Magazine Headquarters and Gardens
4700 ft
Gallery
Allied Arts Guild
4500 ft
Museum
Anderson Collection at Stanford University
3400 ft
Mall
Town & Country Village
2400 ft
south side of the mausoleum off of Quarry Road between Campus Drive and Arboretum Road
300 El Camino Real
Pace Art and Technology
4400 ft
1431 Waverley St
Elizabeth Gamble Garden Center
1.0 mi
Gallery
Thomas Welton Stanford Art Gallery
4900 ft
351 Lausen Street
Frost Amphitheater
3700 ft
Gallery
Palo Alto Art Center
1.4 mi
1451 Middlefield Rd
Junior Museum & Zoo
1.1 mi
Zoo
Palo Alto Junior Museum and Zoo
1.3 mi
117 Palo Alto Ave
El Palo Alto Park
3100 ft
Lomita Dr
Papua New Guinea Sculpture Garden
1.2 mi
Santa Cruz Ave & University Dr
Memorial Court Stanford University
Burghers of Calais Sculpture
4200 ft
Garden
Stanford Arizona Garden
1.0 mi
Store
Whole Foods Market
1800 ft
Restaurant
Scoop Microcreamery
1500 ft
Restaurant
Kirk's Steakburgers
1600 ft
Restaurant
Oren's Hummus Express
1600 ft
Restaurant
Village Cheese House
1700 ft
Restaurant
New York New York
2000 ft
Getting around
Airports
Mineta San Jose International

(SJC)
16.8 mi
San Francisco International

(SFO)
19.0 mi
Train
California Ave Caltrain
1.4 mi
You can book a shuttle, once your reservation is complete.
Reviews of Sheraton Palo Alto Hotel
Paul

We had a fantastic stay at the hotel. From the staff being accommodating and friendly, to the perfect location within walking distance to shops, restaurants, and public transportation. The cleanliness of the hotel facilities exceeded our expectations. We had no trouble finding parking during our stay, and the breakfast offered was a great start to the day. The hotel staff went out of their way to make our visit the best it could be.

Absolutely nothing to say about dislikes.

Alfred

Nice bed and clean room with work desk. Hotel was in a convenient location close to many restaurants and shops.

Terrible staff attitude and no hot water throughout the stay, which was disappointing. The food was mediocre and overpriced, and cash-only bar made it difficult to buy drinks for friends. would not recommend.

John

This hotel is perfectly located for sports fans, with easy access to the stadium. The stylish room had a fantastic view and the breakfast was delicious, with plenty of tasty options. The leisure facilities were top-notch, including a fully equipped gym and refreshing pool. As a long-term business traveler, I especially appreciated the excellent coworking spaces and reliable Wi-Fi.

There was some noise from nearby traffic, which could be disruptive at times.

Scott

Spent Xmas at this hotel and what a great experience! The staff was amazing, they offered us warm cookies and hot cocoa at check-in. The location is unbeatable, just a short walk away from the train station and several restaurants. The breakfast buffet was delicious, with a variety of options including eggs, pancakes, and fresh fruit. The room was spacious and clean, with a comfortable bed and a great shower.

The walls in the room were a bit thin, and we could hear some noise from the neighboring rooms. The gym was small, and some of the equipment was outdated. it was a fantastic stay and we would definitely recommend this hotel to anyone looking for a convenient and comfortable experience.

Angus

The hotel staff was very attentive and accommodating during my recent stay. I particularly appreciated the two complementary factors that were offered during my visit. The location of the hotel was also very convenient, with easy access to shopping areas and restaurants. Additionally, the room was very comfortable and provided a good night's rest.

The hotel's lack of available options for a good breakfast was disappointing. Also, while trying to watch a Warriors game in my room, I was disappointed to find that it was blacked out and only available in the noisy bar area. This made it difficult to enjoy the game in a comfortable setting.

Al

Came in Palo Alto to relax and have fun, this hotel was lovely place for doing it. Appreciated on-site restaurant Poolside Grill. We found central heating, flat-screen TV and a work desk in the king room.

Brian

accommodating stuff and private parking available. the food was truly great. decent service during our stay too.

Kathleen

everything is good here. a quick 15-minute walk is needed to reach stanford arizona garden.

missing

Top location. 2 min to the station. Within walking distance to Stanford Campus and Shopping Center

missing

The location is very good.

The somewhat aged interior was not very appealing.

missing

The Sheraton Palo Alto plays in a different league. It is not to be compared with the other Motel chains, the equipment as for example the double glazing is clearly better. The location directly between Stanford University and the area around HanaHaus is also unbeatable. The whole thing has its price.

missing

From our hotel room you could hear every little conversation and noise from the hallways...Also the elevators were so so slow in there operation. It got to the point that taking the stairs was 5 times faster. Also ten bucks to park your car? Most hotels do not charge for your car.

missing

Very noisy stay. Staff cleaned outside my room until 2AM. When I complained, the staff was ride.

missing

Extremely easy access to Stanford University

None

missing

Location, inside yard w pool & poolside grill.

Starting to be little worn out.
FAQ about Sheraton Palo Alto Hotel
What is the distance from the 3-star Sheraton Palo Alto Hotel to Palo Alto city center?
Palo Alto city center is reachable within a 20-minute walk from the 3-star Sheraton Palo Alto Hotel.
Which attractions can we visit during our stay in the Sheraton?
You can always visit one of the highly rated landmarks, the private research Stanford University, placed 1.2 miles away from the Sheraton. Other sights that are worth your while are Palo Alto Art Center (1.3 miles) as well as Stanford Shopping Center (0.7 miles).
Which landmarks are the closest to Sheraton Palo Alto Hotel?
Guests of Sheraton Palo Alto Hotel can visit Museum of American Heritage (0.2 miles), or Whole Foods Market placed within just a 7-minute walk.
Can we park our car at the lovely 3-star Sheraton Palo Alto Hotel?
Yes, guests of the lovely 3-star Sheraton Palo Alto Hotel can leave their car in parking onsite.
What are the recommended dining options during the stay at the hotel?
Unfortunately, the hotel doesn't have on-site restaurants, but guests can dine in St. Michael's Alley and Saint Michael's Alley restaurants placed within a 6-minute walk from the property.
Can I eat breakfast at the Palo Alto hotel?
Yes, guests can enjoy buffet breakfast provided by the Palo Alto hotel.
What is check-in and check-out time at the 3-star Sheraton Palo Alto Hotel?
Guests of the 3-star Sheraton Palo Alto Hotel can check in from 3 PM to 11.59 PM and check out from 12 PM.
Which facilities are offered in the rooms of the 3-star Sheraton?
Most rooms of the 3-star Sheraton include a balcony and lounge area as well as Wi-Fi and a cable flat-screen.
Are there any business facilities featured at the 3-star Sheraton Palo Alto Hotel?
Yes, for business travelers the 3-star Sheraton Palo Alto Hotel provides computers and a work desk.
Does the hotel offer rental services?
At the hotel guests can rent cars.
Which facilities are provided in the 3-star Sheraton Palo Alto Hotel?
The 3-star Sheraton Palo Alto Hotel includes such facilities as an elevator and a vending machine, whereas guests' safety will be ensured with a safe deposit box and a fire extinguisher.
Does the 3-star Sheraton Palo Alto Hotel arrange any sport activities on site?
Active guests will appreciate fitness classes and a gym area as well as a gym facility offered by the 3-star Sheraton Palo Alto Hotel.